We all know how fresh coffee brewing smells and we love that smell in the morning because it has the ability to wake anyone from their deepest dreams. It is no surprise why drinking coffee is considered to be some kind of morning ritual in many homes.
There are many people who say that cannot start their day without drinking a cup of coffee. The beautiful smell, the caffeine that stimulates our system and the taste are some of the reasons why people around the globe love coffee.
But, are you aware of the fact that coffee is more than just a tasty brew? The beautiful and beneficial coffee experience should not end when you drink that cup of coffee in the morning. The coffee grounds are full of benefits too.
Check these nine interesting ways in which you can use coffee grounds. You will certainly think twice before you throw them away next time.
1. Exfoliation of The Face — although there are hundreds of beauty products available on the market today, most of them are very expensive. The good news is that you can make efficient beauty products from the comfort of your home.
Take one teaspoon of coffee grounds and mix them with your fragrance free cream cleanser in order to produce creamy exfoliant with a strong coffee scent. Dampen your face with lukewarm water, massage your face with the coffee scrub and rinse with cold water.
2. Body Scrub – cellulite is one of the worst enemies of every woman. However, caffeine is here to help us with this problem. This recipe will help you produce a natural body scrub and cellulite treatment. Just mix a quarter of cup of coffee grounds, ¼ cup of brown sugar and ¼ cup of coconut oil and use it for an efficient cellulite treatment.
3. Plant Food – flowers are one of the things that resemble spring. They come in many colors and beautiful fragrances and they can beautify the garden. Of course, certain plants need more than water and sufficient sunlight for good progress. For example, plants that need more acids will surely benefit from old coffee grounds. Just sprinkle these grounds around your flowers and plants and watch them grow.
4. Fragrance – Take enough dry coffee grounds to fill one sachet and simply hang it anywhere in your closet. In this way you will get a natural air freshener and deodorizer. In addition, you can place this sachet in your fridge in case you have noticed some unpleasant odor.
5. Pest Repellent – we all hate the thought of being attacked by ants, flies or some other unpleasant insects in our home. Just sprinkle some grounds around the house, especially in places where you have noticed these insects, and they should stay away from your home.
6. Hand Wash – in case you are a fan of cooking, you've probably noticed that there are food that are difficult to wash off once you are finished cooking. Soap and water cannot help in situations like this. When you are finished cooking your meal which included fish, garlic and onion, use coffee grounds to rub your hands and rinse clean. The coffee grounds will eliminate the odor and make your hands smoother and softer.
7. Steak Rub – if you are planning to grill steak, feel free to try this recipe. Mix one tablespoon of brown sugar, one tablespoons of black pepper, one tablespoon of salt, one tablespoon of paprika, one tablespoon of garlic and one tablespoon of coffee grounds. Put some oil on the steak, coat it with plastic wrap, store it in the refrigerator for two hours and grill.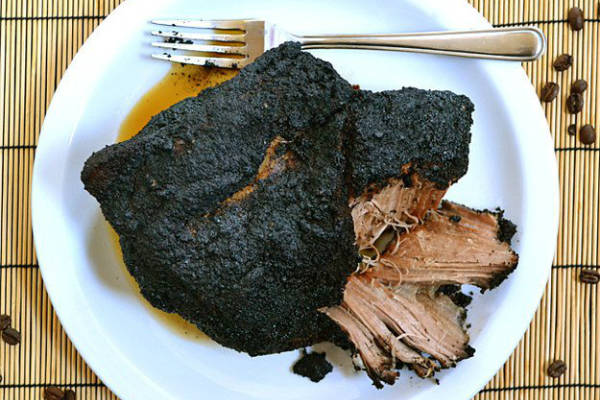 8. Dishware Cleaner – place a couple of teaspoons of coffee grounds on a cleaning rag and use it to remove grime and grease from your dishware. Rinse the dishware thoroughly. Here is another tip on dishware cleaning.
9. Homemade Candles – in order to create these beautiful candles you will need a paper towel, small paper coffee cup, a cup of wax candle ends, scissors, a wick, a small glass mixing bowl, a small sauce pan for melting the wax and some used coffee grounds.
Remember that these are only some of the many interesting uses for coffee grounds. So, when you prepare coffee next time, don't throw away the grounds. Use them for some of the things we have mentioned here.